Discover more from Wordloaf
A thrice-weekly, IACP-nominated breaducational newsletter from Andrew Janjigian. "Pedantic crap!" — A (former) reader
Over 10,000 subscribers
As a member of a diaspora myself, I'm always fascinated by the movements of culinary cultures from place to place, and how they assimilate to and are assimilated by their adopted homelands. Which is one reason I love
's new book,
Portico: Cooking and Feasting in Rome's Jewish Kitchen
.
As Leah writes in her introduction to the book, Rome's Jewish community is more than 2000 years old, and is made up of three distinct, but overlapping groups: the Italkim, who arrived in the second century BCE, the Sephardim, who arrived in the wake of the Spanish Inquisition, and Libyan Jews, who came late in the twentieth century. Each of these groups brought their own ingredients, techniques, and recipes to Roman cuisine, many of which are now deeply intertwined within Italian cooking.
The book gets its title from the ancient Portico d'Ottavia, one of the most iconic landmarks in Rome's Jewish Ghetto, the neighborhood in which the Jewish community in Rome was forced to live by papal decree from 1555 until 1849. During that time, the four-by-four-block area housed some 9000 people in cramped, squalid conditions behind gates that were locked daily from dusk until dawn.
Roman Jews were restricted in other ways as well. They were prevented from engaging in commerce beyond money lending, the sale of rags and used clothing, and street vending. And there were limits in terms of what they could buy, whether by poverty or by papal decree: For example, they were not allowed to purchase fish beyond a certain size, limiting them to scraps, or to tiny fish like anchovies, sardines, and mackerel.
Yet such restrictions resulted in many key culinary innovations. Jewish street vendors invented or at least perfected the art of crispy fried little things, including the small fish they were allowed access to, as well as all manner of vegetables. (The rest of the world knows this dish as fritto misto, though among Roman Jews it is called pezzeti fritti, or 'fried little things.')
And then there is the artichoke, which is so important to Roman Jews that it graces Portico's cover. Despite their popularity today, artichokes were not universally beloved by Italians until relatively recently. But they were embraced by Roman Jews, who created many dishes using the spiny, edible thistles. And their love for both fried little things and artichokes resulted in carciofi alla Giudia, the famed deep fried artichokes that are the most iconic food of the Jewish quarter, and the reason many people flock there today.
I've got two recipes to share with you from Portico: 'burik con patate,' which are potato-filled turnovers made from crepe-like wrappers, a dish brought to Rome by Libyan Jews, and 'pizza ebraica,' which, despite the name, are not a flatbread but rather a mandelbrot-like bar cookie made from dried fruit and nuts.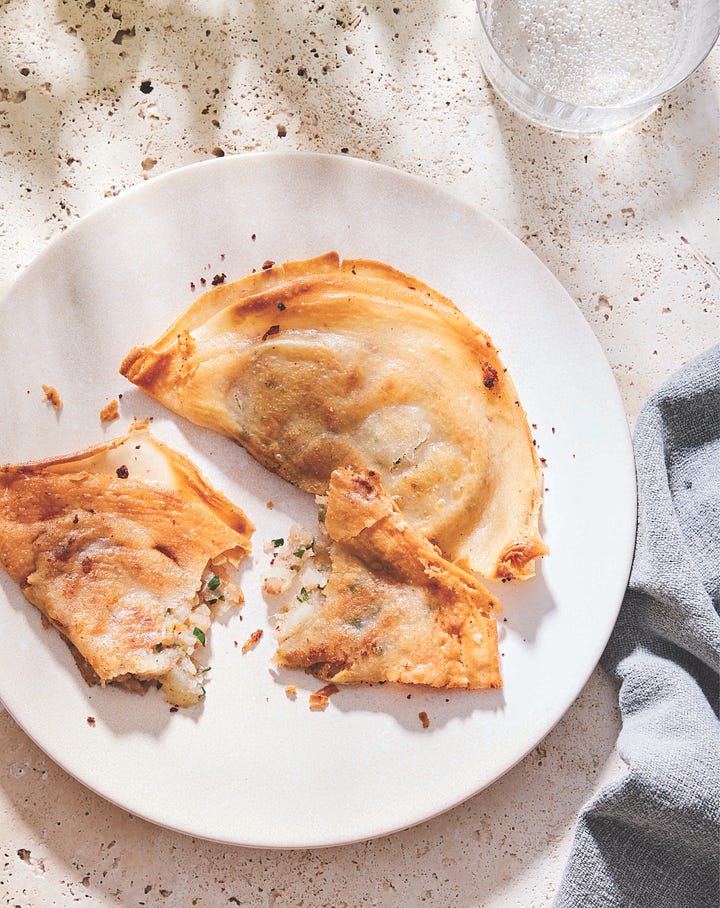 I hope you love both of these recipes, and this wonderful book.
—Andrew