Discover more from Wordloaf
A thrice-weekly, IACP-nominated breaducational newsletter from Andrew Janjigian. "Pedantic crap!" — A (former) reader
Over 10,000 subscribers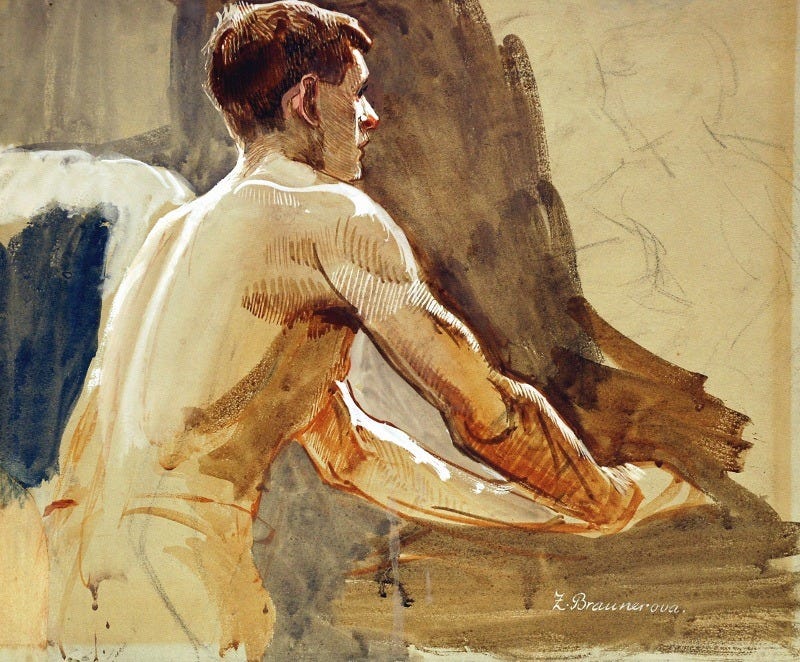 Study of a baker, by Czech artist Zdenka Braunerová (1858-1934) (h/t Biblio Curiosa)
When I first launched Wordloaf this past spring, the main point was getting "quarantinystarter" information in a timely and easy-to-digest format out to everyone that was working on one, along with recipes to use it with. But hopefully by now we all have mature, healthy sourdough starters to use. (If not, remember you can get a dried one from me for a $5 Venmo payment @andrew-janjigian, and emailing me directly with your address.) So while Wordloaf 2.0 will definitely include info on sourdough starter creation and maintenance—including a refined quarantinystarter method that will drop sometime next week for those of you who really want to start from scratch—the overall focus will be much broader than that.
Here's how I envision it:
I've never worked in a bakery, but I've spent loads of time in plenty of them. And I've worked the the last 11 years at an organization whose main objective is teaching people how to cook like a professional, but in a home kitchen setting. So if I have any sort of bread baking "expertise" at all, it's in knowing how to create bakery-quality breads and pizzas within the limitations of the average home kitchen, and under the constraints of someone who has only so much time to devote to cooking most days.
Like most of us, I'm a busy person too, with lots of projects and tasks to juggle every day (my to-do lists have gotten out of hand lately, especially now that I'm my own boss), so the amount of time I can devote to baking is limited. But I'm also convinced that—with a few notable exceptions—good bread cannot be rushed; ample time is an important ingredient as high-quality flour or a well-loved starter. But mercifully time is not synonymous with work, at least in this instance. Yes, there are aspects of the process and certain recipes that demand sustained attention and care, but in general, bread baking is mostly hands off and can easily be slotted into even the busiest of schedules.
And while bakeries and pizzerias have fancy, expensive steam-injected ovens, proofer-retarders, and diving-arm mixers, most of these tools serve only to manage high volume and throughput. If you are baking on a small scale, identical results can be achieved using a different set of tools, most of which are inexpensive and/or in our kitchens already (or at the ends of our arms).
All of which is to say that I know that great bread can be made right at home, without a whole lot of effort, and that's what I hope Wordloaf is going to illustrate.