Discover more from Wordloaf
A thrice-weekly, IACP-nominated breaducational newsletter from Andrew Janjigian. "Pedantic crap!" — A (former) reader
Over 10,000 subscribers
Today we have a guest post from poet and scholar Maya Popa, who reached out to me earlier this year out of the blue to say that she'd like to contribute something to Wordloaf on the subject of bread in poetry, and I could not have said yes faster to the idea. Maya is the author of several highly-acclaimed books of poems and is one of the world's great promoters of poetry online, whether on social media or her Substack newsletter, Poetry Today.
I'm very excited to share with you this post on the wonder of bread, and so thankful to Maya for bringing a little of her own wonder to Wordloaf.
—Andrew
---
The Wonder of Bread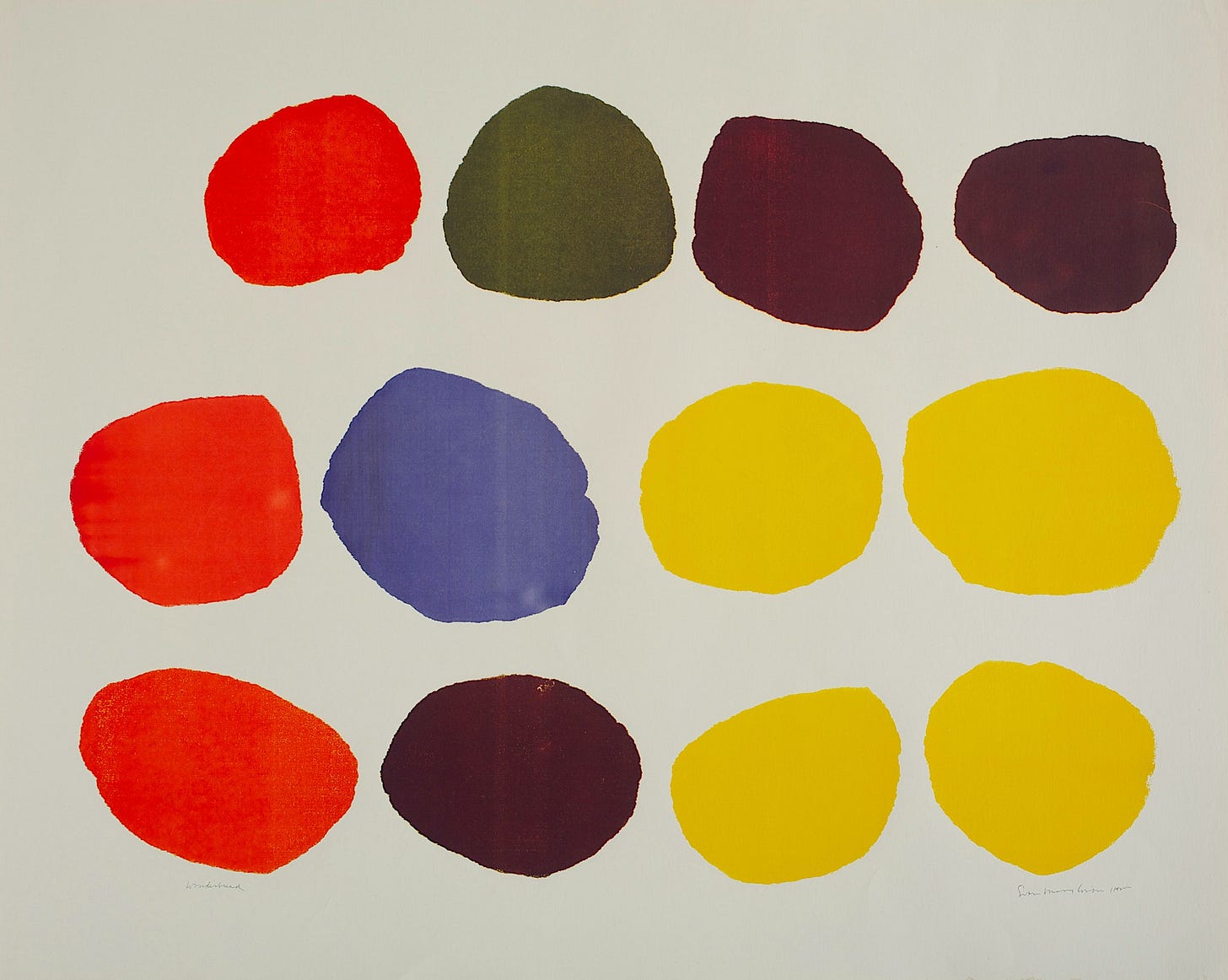 When Andrew and I first discussed collaborating, the inevitable play on "Wonder Bread" was quick to make its way into our correspondence (I study wonder; if Andrew hadn't been the one to make the joke, I would have). But…this inspired me to do some digging.
It turns out Wonder Bread isn't just a self-congratulatory boast but really does have its origins in wonder—Elmer Cline's amazement at hundreds of hot air balloons in the sky at the 1921 International Balloon Race at the Indianapolis Speedway. He called his bread Wonder Bread after that moment, which explains those distinctive yellow, blue, and red spheres on the package. (As we know, sliced bread was a total gamechanger in the 1930s, but I defer to Andrew on all things bread historiography.)
What interests me—and I hope will interest you—is the way that bread has long shaped the literary imagination. This humble culinary staple is foundational in religious texts, (to "break bread" in the Old Testament, for instance) and it's no surprise that it carries a sort of magic: it can rise or fall and nourish many with just a few basic ingredients. Every culture has its own approach to bread. It's wildly versatile, as this Substack reveals week after week. It also has the power to make us ecstatically happy—truly, is there anything more delicious than a beautiful, crusty baguette buttered across its warm surface? Idiomatic expressions, "someone's bread and butter," "the greatest thing since sliced bread," suggest its ubiquitous role in our alimentary lives.  
But, as a poet, I'd be remiss if I didn't take this opportunity to highlight the way poets have written about bread, and its related themes of sustenance, pleasure, community, and survival—and even as a sexy metaphor; thanks, Amy Lowell!
I hope you enjoy this selection and that it makes you pay new, or renewed, attention to bread in your reading.
---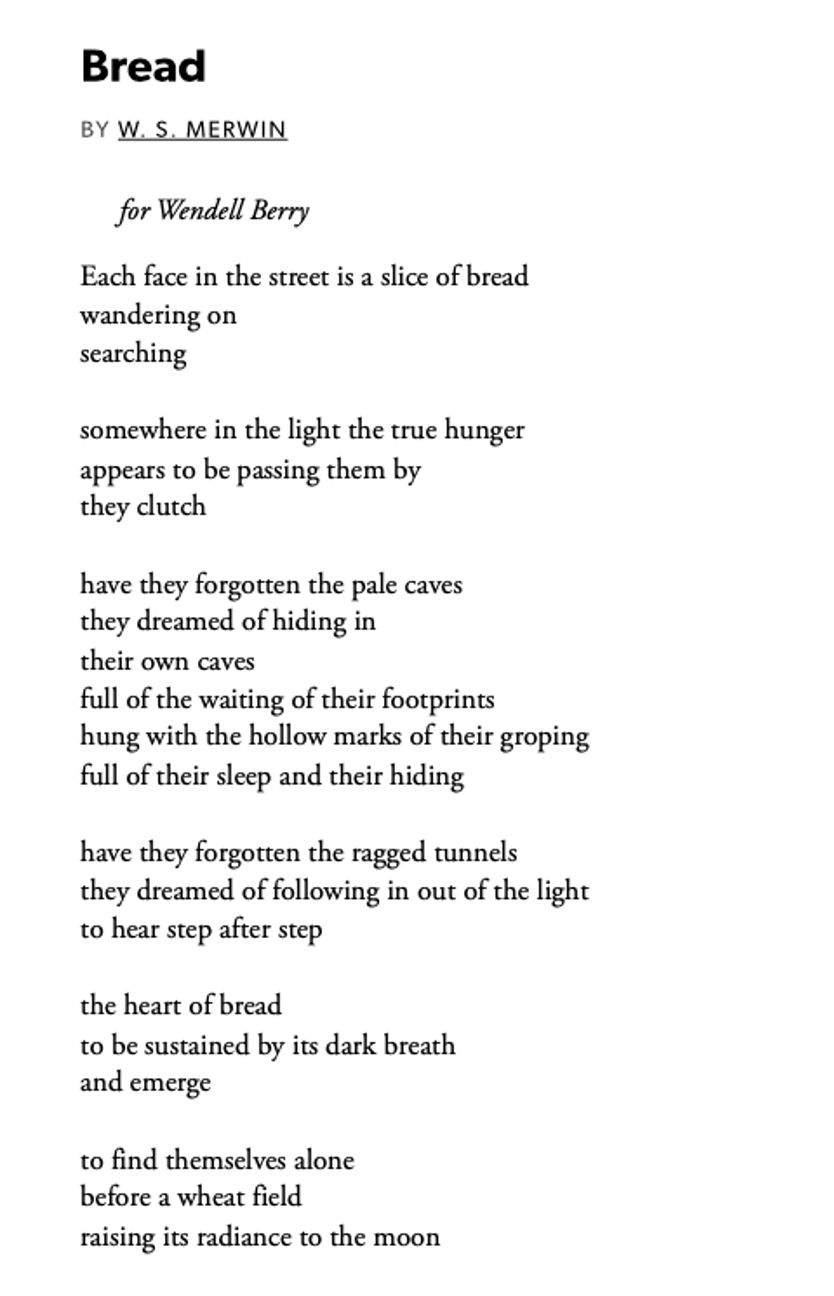 ---
---
---
---
---
Maya C. Popa is the author of Wound is the Origin of Wonder (W.W. Norton, 2022) and American Faith (Sarabande, 2019). Her poetry and critcism appear widely, including in The Atlantic, The Paris Review, The Nation, and The Times Literary Supplement. She was commisioned by the United Nations to write and deliver a poem for the annual Day of the Girl conference, and her writing was featured on a Louis Vuitton trunk for the Visionaries 200-Year Anniversary campaign. She holds a PhD on the role of wonder in poetry from Goldsmiths, University of London, as well as degrees from Oxford University, NYU, and Barnard College. The Poetry Reviews Editor at Publishers Weekly, she teaches at NYU and elsewhere. She writes on poetry, wonder, and mindset in her Substack newsletter Poetry Today.