Discover more from Wordloaf
A thrice-weekly, IACP-nominated breaducational newsletter from Andrew Janjigian. "Pedantic crap!" — A (former) reader
Over 10,000 subscribers
Hello from the Wordloaf Friday Bread Basket, a weekly roundup of links and items relating to bread, baking, and grain. Hey, my friend Ines Glaser, pizza maven and honcha of LA's roving pizza experience Lupa Cotta now has a Substack newsletter, all about—you guessed it—pizza! The first recipe she shared was for a clam pie, which is pictured above, and which should be incitement enough to subscribe:
Ines was one of the squad of tabletop oven pizza pros that I interviewed for my Serious Eats story on how to make great pizza in an outdoor oven.
---
Baking science, sifted
My friend
, of the
essential
baking (and often bread-related) newsletter Kitchen Projects, just announced her first cookbook,
Sift: The Elements of Great Baking
, for which I could not be more excited.
Across 350 pages, I'll guide you through the fundamentals of baking and pastry through in-depth reference sections and well over 100 tried & tested recipes. I can't wait to show you more, but for now let me describe it to you: Divided into two parts, we'll start by taking a journey through the ingredients that underpin great bakes - Flour, Sugar, Eggs, Fat - before delving into the techniques that bring our recipes to life - Texture, Colour, How Things Rise and, of course, a Technical Overview. It's the reference book of my dreams with all the fun diagrams.
The book drops in the spring, in time for me to shamelessly poach be inspired by all of its knowledge and wisdom for my book. You should probably just go ahead and preorder it, because it's going to be just as essential as the newsletter that launched it.
---
Honey dripper
My friend Mike Kurtz, mastermind behind pizza condiment behemoth Mike's Hot Honey, was recently profiled on CNBC's Make It series:
When I first met Mike (and became a zealot for his honey), he was still making the stuff in the kitchen at Paulie Gee's in Greenpoint. I'm fairly certain he owes some (small) measure of his success to my foisting Hot Honey on anyone and everyone I could back then.
---
Queen Biscuit
My friend Nicola Miller (ed: lots of friends and Nicolas in this edition of the FBB!) profiled Erika Council's new book, Still We Rise: A Love Letter to the Southern Biscuit, on her also essential newsletter, Tales From Topographic Kitchens last week:
'When I decided to write a cookbook, I had little doubt that it would be about the gospel of biscuits,' Erika writes in her introduction. As she began conceptualising what her book might look like, she noticed something was missing in the existing biscuit canon; 'something that seemed representative of me.' Erika's entire education in baking has 'been guided by Black hands', but this foundational experience—relatable to so many Black people in the South—that has been built on the expertise of Black cooks and chefs remains under-acknowledged in food history.

Still We Rise seeks to play its part in the redressing of this wrong. '"They're still here because I'm still here," says her mother about the African-American men and women who shared their wisdom and skills. This is legacy food, borne of a family baking tradition that went on to birth several businesses which continue to sustain, nourish, and centre the communities in which they operate. It is dynamic, and in Erika's hands, continues to evolve and innovate.
Luckily for me, my copy of this book just arrived as well.
---
Stray Crumbs:
My friend Nicola Miller (again), discussing Bunny Bread over on Instagram: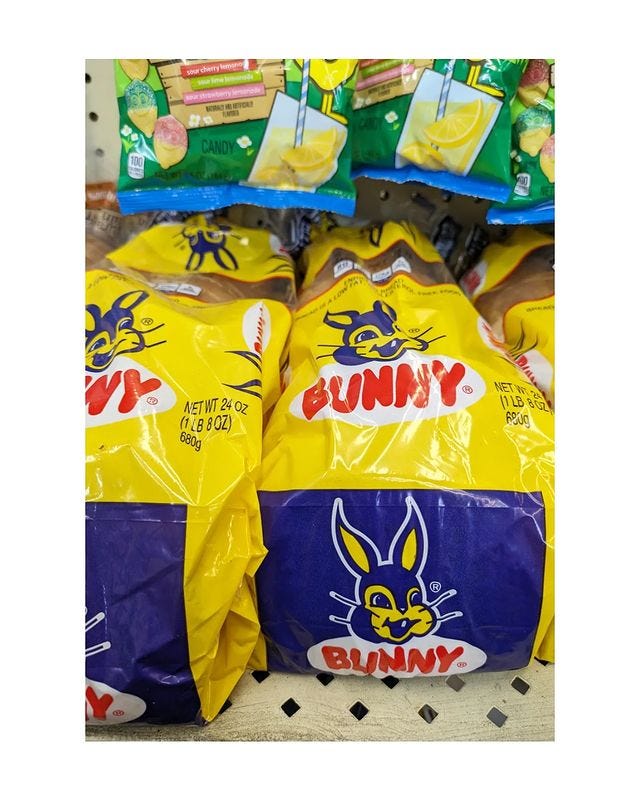 ---
---
That's it for this week's bread basket. Have a peaceful weekend, see you all on Monday.
—Andrew