Discover more from Wordloaf
A thrice-weekly, IACP-nominated breaducational newsletter from Andrew Janjigian. "Pedantic crap!" — A (former) reader
Over 10,000 subscribers
Hello from the Wordloaf Friday Bread Basket, a weekly roundup of links and items relating to bread, baking, and grain. Pictured above are the cinnamon rolls I'm working on for a collaboration with my friend
, which should drop in time for the holidays this year, so stay tuned.
I have a long backlog of Bread Basket items to share with you, but it feels wrong to share happy bread items right now without at least once addressing what is happening now in Israel and Palestine. I'm not interested in getting into a debate with anyone—trust me, I've had too many painful ones with close friends and even family already—but I wanted to state plainly that I think there needs to be a ceasefire now, for the sake of all parties, including the many Israeli hostages still being held by Hamas.
What Hamas did in Israel on 10/7 is abhorrent and evil, full stop. As is dropping bombs indiscriminately on and withholding fuel, aid, water, and freedom of movement from 2.3 million Palestinians, nearly all of whom had nothing to do with the attacks and want only to live in peace and freedom in the only land they have ever known. Killing is wrong no matter who is doing it, and revenge is not a moral or practical solution, ever.
I'm going to devote the rest of this post to a few bready items from others on the same topic. Please read and contemplate these if you like, but do not try to debate with me about anything here, I will not engage if you do.
---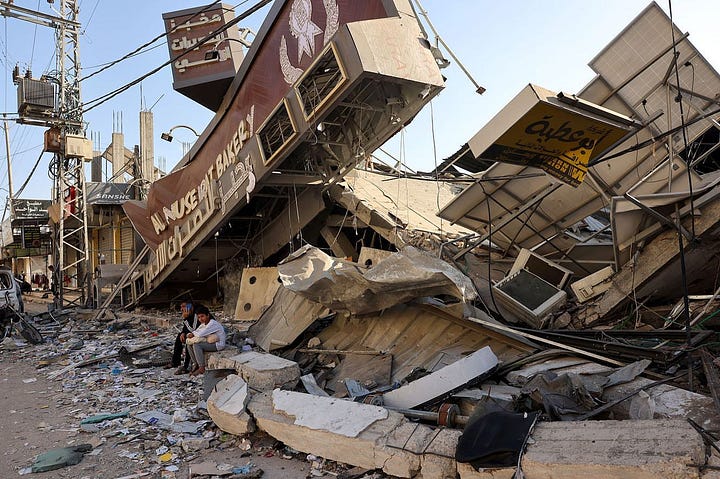 My friend Lexie Smith shared a post on Instagram showing images of numerous bakeries in northern Palestine, of which there apparently none left in operation, along with these words:
Bread provides a simple metric in the most difficult times. In conflict, you can always tell the oppressed from the oppressor by looking at the bread:

As of today ALL bakeries in northern Gaza, where bread (khobz) is a necessary staple food, are non-operational due to lack of fuel and flour, infrastructure damage sustained by Israeli airstrikes, or for fear of being targeted by further airstrikes. At least five of these bakeries, where civilians stood in long lines to get khobz for their families, were intentionally targeted by Israeli airstrikes.
Now consider: As of three days ago, the average Palestinian in Gaza was surviving on two pieces of bread a day.

Only about two percent of the food required to feed Gaza's population of 2.3 million people has been delivered since October 7, but the Israeli Ambassador to the UN maintains (speaking on CNN) that there is 'no humanitarian crisis in Gaza,' and that Israel has delivered the appropriate amount of relief.

Sources: Al Jazeera, UN (AP), CNN, Democracy Now
---
Mitchell Davis shared a recipe for challah, which he made recently to console himself about the Israel-Palestine war, and he shared some of his conflicted thoughts on it all:
For anyone with any sense of what is happening on either side in this conflict, the situation is overwhelming. The news conjures too many emotions to process, ranging from anger and grief to disappointment and despair. Fear and dread are everywhere. And I'm just watching it from afar. Everyone who knows anyone in Israel is connected to someone murdered, kidnapped, or called to war, just as I'm sure anyone who knows anyone in Gaza has an equally grim story to tell. This should not be a contest.

Yesterday I got a text from another dear friend, a Lebanese woman who lives on the other side of the world in New Zealand. "It's times like this," she wrote, "I think of your gracious table set with a Lebanese table cloth and Israeli dinner set, believing even more in the power of such generosity, hospitality and commensality. What happened on October 7th was an unforgivable act of brutality and terrorism. My heart goes out to all whose political and world leaders can't find a solution that puts humanity, freedom and empathy first. This is where the table plays its best role." It made me cry.
---
Over at Eater, Jaya Saxena interviewed Reem Assil (whom I featured here last year), the Palestinian baker and activist behind a coalition of food professionals from all backgrounds who are organizing to achieve a cease-fire in Gaza:
Hospitality for Humanity, organized by chefs including Reem Assil of Reem's, Omar Anini of Saffron De Twah, and Marcelle Afram of Shababi, in partnership with Jewish American chef activist, Ora Wise, and Asian American food writer and land worker, Kimberly Chou Tsun An, is calling on industry professionals — chefs, servers, writers, and farmers alike — to sign on to their pledge to demand a cease-fire in Gaza, support Palestinian voices, and boycott Israeli products. The pledge has over 800 signatories so far, including well-known chefs like Samin Nosrat, Stephen Satterfield, Sohla El-Waylly, and Bryant Terry.

"As cultural stewards in this country, we have the power to counter the dehumanization of Palestinians," says Hospitality for Humanity in a press release. The goal is to do this by calling on signatories to emphasize Palestinian foodways and reject press events and trips to Israel, a nonviolent act they hope will pressure Israel to end its military occupation and its "horrific human rights abuses." "We are all in this industry to affirm life and dignity for everyone," they write. "As those who care for others, it is our moral imperative to actively contribute to the care that Palestinians need right now as they struggle to survive and get free."

Assil notes this coalition didn't happen overnight — it's the result of years of organizing in the hospitality industry, among a "multicultural, multiracial, multireligious, people of all walks of life." She spoke to us about how Hospitality for Humanity is trying to harness the cultural influence of food professionals to educate the public on the history of Palestinian cuisine and the realities of Palestinian oppression, and where and how food gets to be political.
---
That's it for this week's bread basket. Have a peaceful weekend, see you all on Monday.
—Andrew