Discover more from Wordloaf
A thrice-weekly, IACP-nominated breaducational newsletter from Andrew Janjigian. "Pedantic crap!" — A (former) reader
Over 10,000 subscribers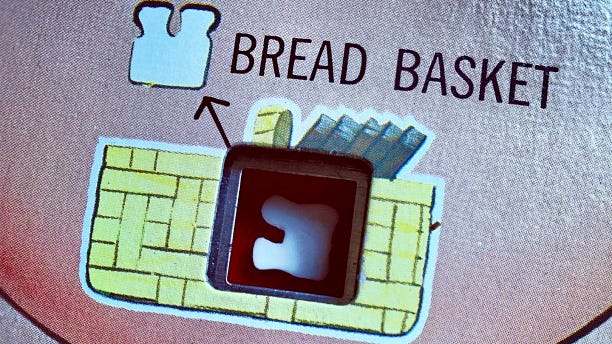 First: Thanks to everyone who has signed up to be a paid subscriber to Wordloaf this week. I'm amazed at the response I've gotten since I turned subscriptions back on, and I am enormously grateful for the support. 
I'll be sending out the first peer-testing/sneak-preview recipe for paid subscribers later today as well, for a sourdough thin-crust pizza. I haven't shared any pizza intel here yet, and I have loads of it in store for you all (in fact, to correct the imbalance I've decided to make November "pizza month" here at Wordloaf). But since this sourdough pizza recipe is the newest one I've developed, I wanted a few more testers to give it a go before I send it out into the wild.
If you aren't a subscriber yet, and want to weigh in on it, I'd love to have you!
---
The Book of Bread, by Owen Simmons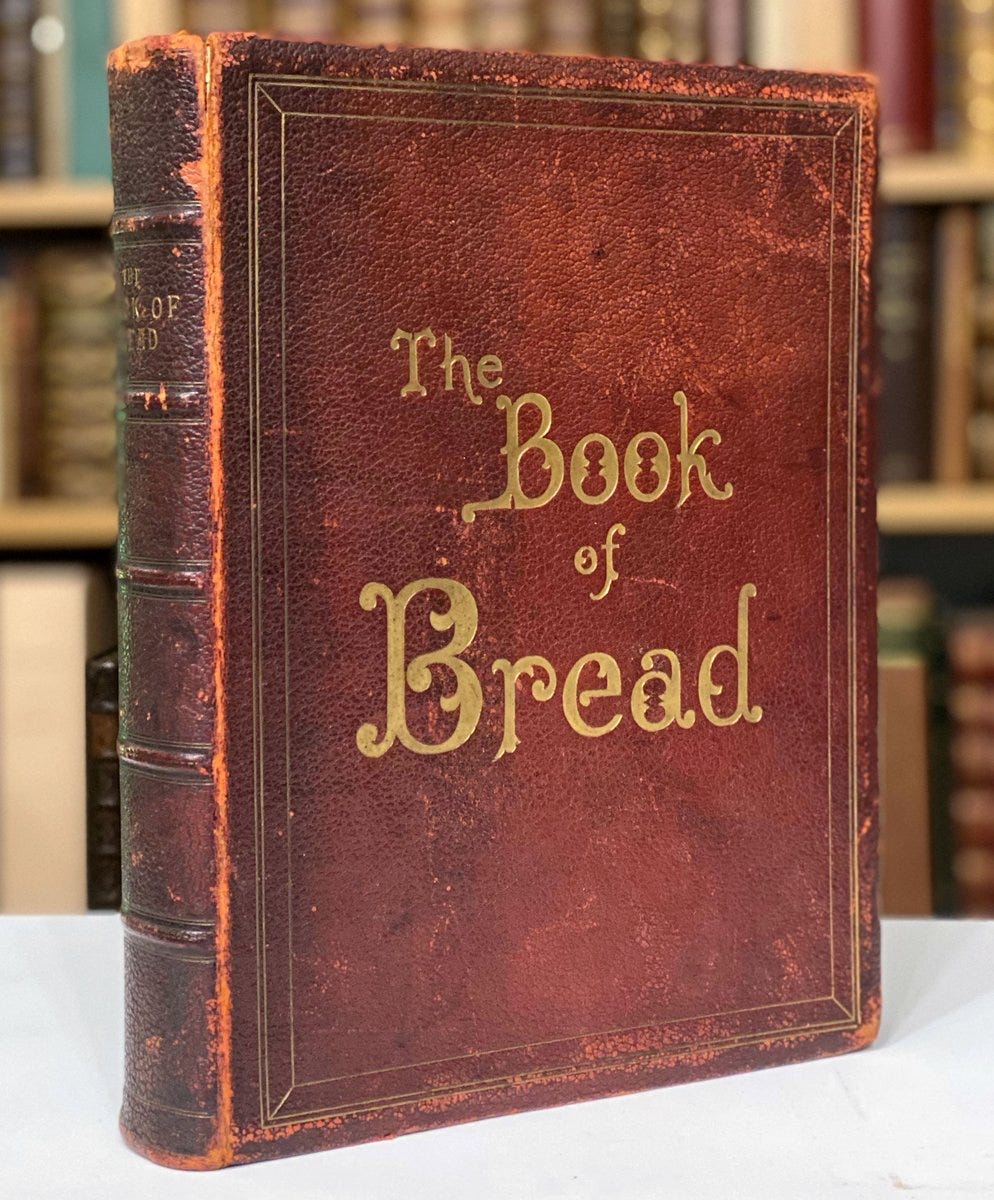 I am an inveterate book collector, particularly of rare books on whatever subjects I happen to be obsessed with at any particular moment. Which is why—as a bread baker and film photographer both—my white whale has long been Owen Simmons' 1902/3 tome The Book of Bread, of which only around 350 copies were ever made.
Though created as a technical guide for bread baking professionals, it is as much an art book as a manual: The 'deluxe' 1902 edition includes actual silver bromide prints of photographs of a dozen or so sliced loaves: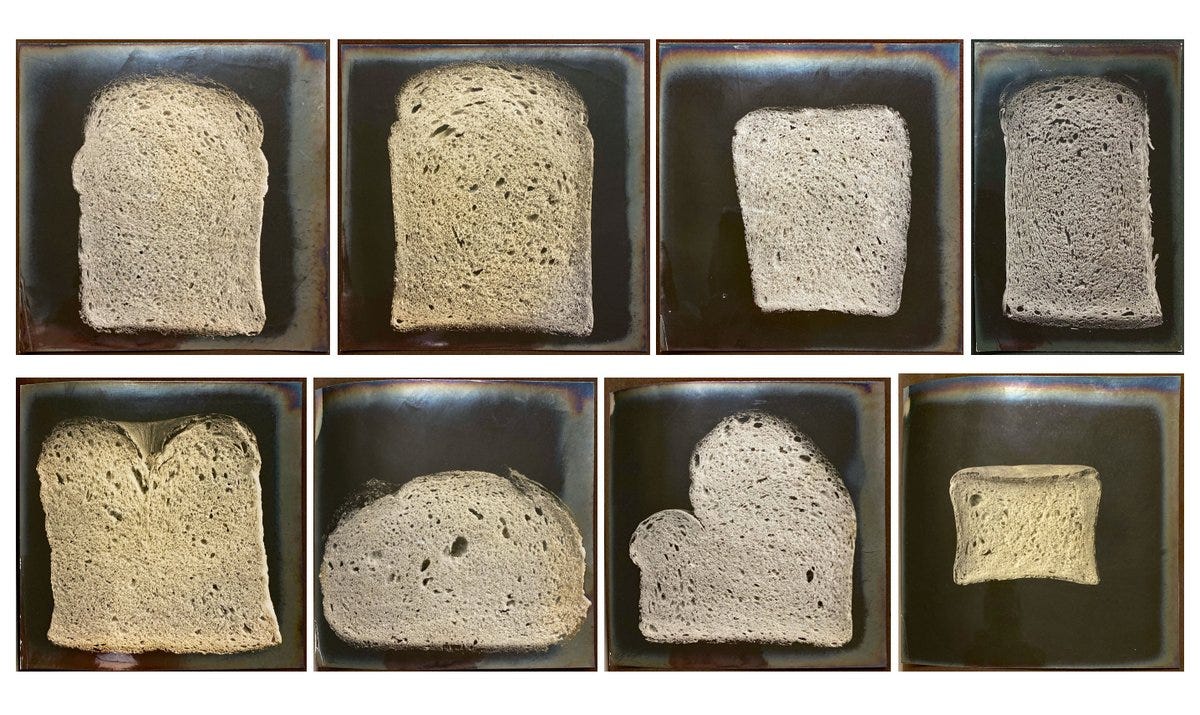 Along with chromoliths (an early color photography printing technique) of whole loaves set against a surreal blue backdrop: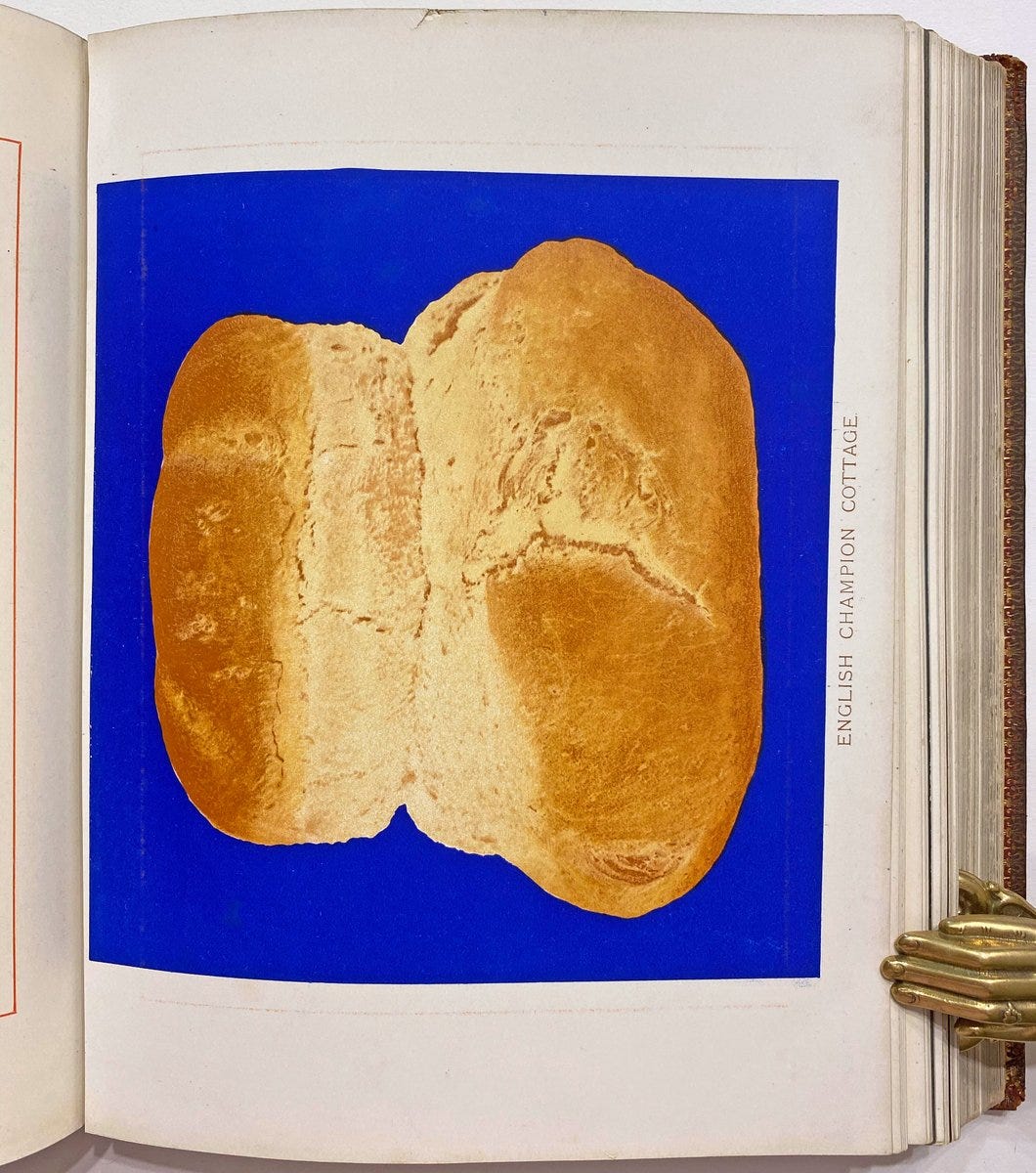 Some argue it's the worlds first "photobook", but that honor goes to Anna Atkins' Photographs of British Algae: Cyanotype Impressions, which was published in 1843–53.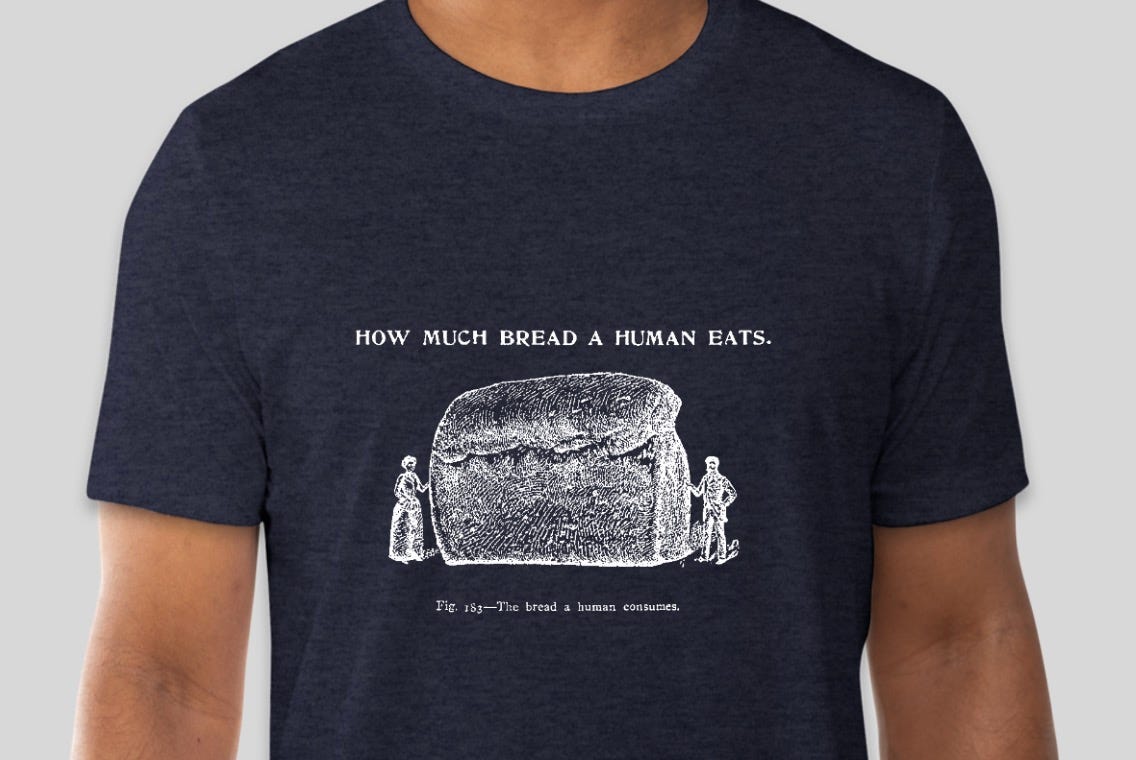 By the by, this book is also the source of the original artwork from the "How Much Bread a Man Eats" t-shirt that I'll be relaunching here soon.
One of these days, I'll get my hands on a hard copy (though probably not a deluxe edition, since those run into the thousands), but in the meantime, decent PDF scans are available online. You can read more about The Book of Bread on this wonderful Incunabula twitter thread.
-> Incunabula: Owen Simmons, The Book of Bread
---
Barefoot Contessa Declares Sourdough Trend 'Over'
In her recent interview with Seth Meyers to promote her new book, Modern Comfort Food, Ina Garten declared that the sourdough trend "is going to last for about five minutes", and that sourdough baking is anathema to "having a good time".
"I can't tell you how many people emailed me and said 'What should I do about the sourdough starter?' and I am like, I've never made a sourdough bread in my life," she said. "I had to make stuff up…It was maybe the first week of the pandemic I got a lot of questions, after that, nothing."
Perhaps the questions dropped off because she told them she hadn't had the first clue about sourdough and people went elsewhere for help…maybe to a certain email newsletter?
---
The Bread of Childhood, by Ihor Pavlyuk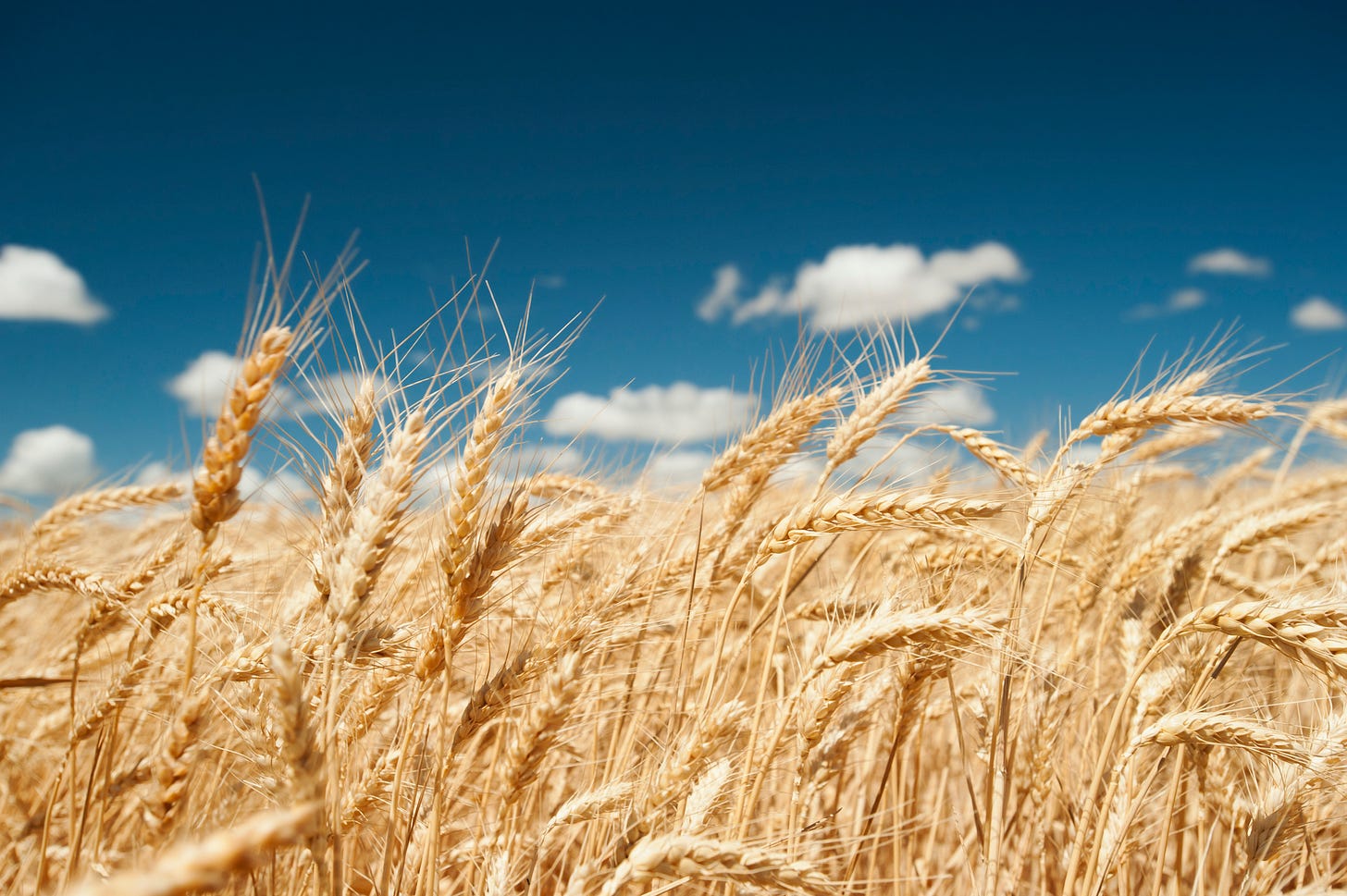 [Photo credit: Erik Isakson/Getty Images]
The Bread of Childhood
Grandmother's pyrohy* oozing cherries, the soil
Fragrant with spring,
These are the heart's embroidered memories
Touched by the cry
Of a crane.
I sit beneath fir-trees and recollect
The sacred village evenings
Grandfather spoke of to me.
"They were truly rich," he said.
"Something good has been lost since ancient times. But what?
A song? The ring of a sickle,
Life rolled along like a round loaf until time bit
Into it …"
Twilight thickens.
I leave the forest in a dream.
Cranes seem
To dance in the meadow, my childhood
Is delicately embroidered
With stalks of wheat.
Translated by Steve Komarnyckyj
* Pyrohy – in the poet's region of Ukraine, pyrohy are pies rather than dumplings
(h/t The Guardian)
---
See you all next week, when I'll have a few more sourdough discard recipes to share.
—Andrew